Specialized in eCommerce since our creation in 2004, we start the year 2020 by strengthening our CRM and Marketing Automation offer. Indeed, after the formalization of our partnership with HubSpot, we are proud to announce that Dn'D is now a dotdigital partner, a powerful Marketing Automation solution that perfectly complements the functionalities offered by the Magento eCommerce solution.
Marketing Automation reminder
Marketing Automation is a concept that brings together all the tools and techniques for automating repetitive tasks such as sending e-mails or SMS (example : sending a welcome message as a reply to a new subscription for a newsletter). Even if these tasks remain essential, they can be time-consuming and tedious : automating these tasks allows for greater speed and productivity. In particular, it can be used for :
Lead scoring and qualification (including identifying the leads most likely to buy a service or product)
Optimizing lead generation as part of a content marketing strategy
Promoting an event
Relaunching abandoned shopping carts more effectively
dotdigital : an expert and powerful Marketing Automation solution
dotdigital enables companies to solve their engagement, loyalty and lead reactivation problems through Contact Scoring campaigns implementation, triggered by precise actions individually calibrated for each user according to his or her progress in the customer journey. The solution stands out for its high level of accessibility and personalisation, offering companies the possibility of creating personas via a tool called « Persona Movement« , allowing them to gain greater visibility on the evolution and life cycle of their customers. Intuitive and easy to use, dotdigital is a complete and expert solution in Marketing Automation for eCommerce, CRM, Technical, Marketing teams to create landing pages, forms, transactional e-mails and various templates in order to implement their strategy on different channels:
Social Networks
Advertisements
Mobile
Web
SMS
E-Mailing
Offline
…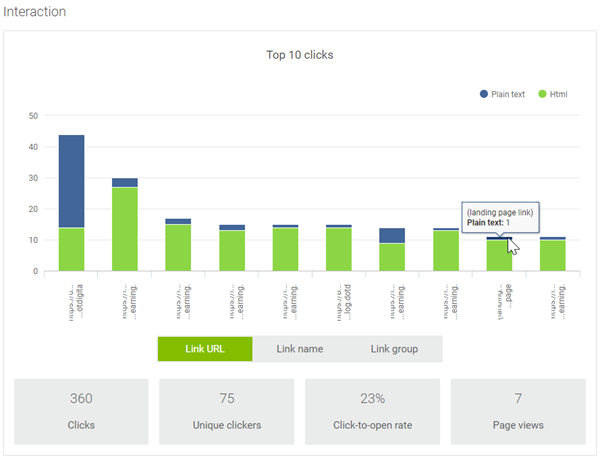 With a section entirely dedicated to reporting, users can precisely monitor the tools they deploy and better analyse the impact on their targets
(source : dotdigital)
Founded in 1999 by Ian 'Tink' Taylor, dotdigital enables more than 4,000 brands in over 150 countries to acquire, convert and retain customers, notably by relying on its great ability to easily implement omnichannel strategies and hyper-personalized relationships to promote the engagement of different prospects. dotdigital offers marketing teams total independence and is distinguished by its advanced multi-channel workflow functionality. With more than 350 employees and offices in 9 different countries, dotdigital has supported brands such as Monin, Crystal Palace FC, DHL Express, and Fred Perry, all of them have placed their trust in the company for a better growth.
A dotdigital <> Magento Connector
dotdigital is the only existing Marketing Automation solution to benefit from Magento's Premier Technology Partner certification. dotdigital is composed of a team of experts on Magento internally, which allows it to effectively support all users of the eCommerce solution. There is a connector linking dotdigital's platform to Magento 1 and 2, which guarantees full integration to segment and customize the journey of each online customer. Powerful, intuitive and efficient, this connector allows E-Merchants to set up automated actions avoiding specific additional developments, thus offering additional independence to the marketing and sales teams.
Here are the advantages of the connector between dotdigital and Magento :
Abandoned baskets Management
dotdigital's expertise in Marketing Automation allows Magento e-merchants to more efficiently analyze customer cart abandonment. Indeed, dotdigital can access triggers and deploy e-mailing campaigns to customers based on their user journey. The E-Merchant can, from Magento, copy a personalized link to the shopping cart in the state left by the customer before leaving the online store, then paste it into the E-mailing campaigns launched from dotdigital in order to facilitate reminders and thus improve the conversion rate. Contrary to what one might think, the design of these campaigns is very simple and can be done via templates already created, customizable via a Drag & Drop system.
Optimized customer data management
The customer data contained in your Magento platform is automatically synchronized in dotdigital. As a result, e-merchants have more visibility on the history of customer data, on their orders, their wish lists, their shopping carts content, the comments left at the end of their shopping experience as well as on their browsing behavior. All of this data helps you to set up precise social profiles that allow you to activate concrete conversion levers, in order to increase your conversion rate in the best possible way. Thanks to this data mapping from Magento, you have the ability to create personalized segments based on attributes and criteria specific to your prospects, in order to score with more personalization during your next campaigns.
Tasks automation
The integration of dotdigital with Magento offers the possibility for E-Merchants to create marketing campaigns aimed at a target carefully chosen in advance and according to a very precise frequency (once a week, once a month…). This automation system is quick and easy to use, which allows marketers to save precious time in the deployment of their daily tasks. A large number of campaigns can be created with a high degree of personalization, allowing e-merchants to adapt their strategy to a wide range of contexts :
E-Mailing
Post-purchase follow-up
Birthday discount
Loyalty campaigns
…


By definition, this omnichannel tasks automation on Magento with dotdigital concerns a plurality of media, namely: E-Mailing, SMS, social recycling, Google ads, push notifications, online chat and many others. Always in a logic of personalization, these automation actions can be elaborated according to the customer's buying paths and their different actions carried out on the E-Commerce site.
dotdigital x Nosto : the winning combination !

Agence Dn'D is a Nosto solution partner and proposes its implementation to E-Merchants wishing to adapt their product offer to each visitor. In order to allow E-Merchants to benefit from a powerful and complete personalization tool, dotdigital and Nosto have joined forces to create a connector. Through this connector, E-Merchants can :
Direct access to Nosto's recommendations from the dotdigital E-Mailing editor
Import their synchronized Nosto segments into dotdigital and acquire ultra-customized audience segments
Export their dotdigital segments in Nosto in order to have more personalization in dotdigital campaign re-launches
Take advantage of Nosto segments in dotdigital's dynamic content

This integration represents a decisive asset in the personalisation of the customer journey and will enable users to significantly increase the conversion rate of the E-Mailing campaigns they deploy.
Our Marketing Automation offer
dotdigital's Marketing Automation platform allows us to offer a quality, personalized and particularly efficient customer service in the E-Commerce field. Thanks to the many partners we have in common, dotdigital represents today a major solution to accompany our customers. Here are the two offers we propose :
Packages : to start and activate the answers to the main E-Commerce problems you may encounter within your platform (welcome e-mails, shopping cart abandonment, retargeting…). This option also includes the necessary actions to be deployed in order to generate more commitment and loyalty among your prospects.

Customized offer : to go further and understand your most specific needs. This offer will allow us to explore your issues together and share personalized recommendations with all your prospects.

You have a Marketing Automation project ?