In order to efficiently meet our customers needs, we're continually evolving our user experience management services. During this holiday season, we are pleased to announce the officialization of our new partnership with HubSpot, which marks a significant evolution of our offer CRM and Marketing Automation !
HubSpot presentation
In 2004, two newly graduated American students named Brian Halligan and Dharmesh Shah, noticed that consumers purchasing behaviour was changing enormously, prompting them to ask themselves how could they respond to this new issue : HubSpot was born. This software platform, which has also introduced the concept of Inbound Marketing in the United States, helps SMEs to initiate and control their marketing actions, manage their sales processes and meet their customers ongoing needs. As a true all-in-one system, HubSpot provides companies with the data they need to make strategic decisions in their sales processes to achieve new growth objectives. Today, HubSpot has more than 3,000 employees in 9 international branches and supports nearly 68,000 customers worldwide.
The HubSpot platform includes the following software :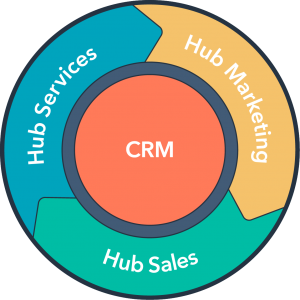 The different tools offered by HubSpot (source: hubspot.com)
HubSpot in 5 key dates :
2006 : creation of HubSpot
2013 : opening of the very first European office in Dublin
2014 : HubSpot goes public
2017 : HubSpot acquires the company Motion AI in order to integrate its visual development tool for chatbot
2019 : opening of its ninth world office in Paris. After Dublin and Berlin, this is HubSpot's third location in Europe, where 30 new jobs are planned over the next two years.

HubSpot CRM Presentation

HubSpot CRM module provides a 360° view of leads by storing exchanges at each contact point (call, email, live chat, tickets) and facilitates the recording of internal history, including note taking by sales representatives. HubSpot also manages the company records creation and update : when a contact from a new company is added, the latter is automatically created. Finally, HubSpot provides access to transaction, ticket and product data management, in order to automate the entire lead lifecycle.

On the other hand, HubSpot CRM is characterized by different task management possibilities and an easy access to new contact activities. You can also segment contact lists, set up custom filters for certain activities and adjust the steps in your sales pipeline. This approach allows you to optimize the qualification level of your leads, and by extension, their conversion rate.

The HubSpot CRM operating process (source: hubspot.com)

8 ADVANTAGES OF HubSpot CRM

1. Always up-to-date data

The HubSpot CRM is updated in real time every 10 minutes, which means that your team always uses the most recent information. This is a fundamental support for the successful execution of your Lead Management strategy.

2. A tool easy to learn

The HubSpot CRM accessibility is guaranteed by its ease of use. Indeed, automated tasks and customizable data will allow you to focus on increasing your sales instead of learning how to use the CRM system. Intuitive, ergonomic and simple, everything is implemented on HubSpot to enable its users to improve their productivity.

3. Easy installation

No more installing CRM solutions on tens or even hundreds of terminals, it's time for the Cloud ! HubSpot offers remote access from any device and doesn't require specific installations, which is very interesting for companies with multiple locations or international operations. HubSpot CRM is cloud-based, which allows easy access to its information in a secure way, to be flexible no matter where you work (from abroad, in a co-working space, at a customer's premises, etc.), which guarantees both flexibility and scalability.

4. Social networks integration

You can track your company's social media mentions, audience engagement and you can schedule your publications at moments your contacts are most likely to read them. HubSpot CRM helps companies increase their reach by connecting to Facebook, Instagram, LinkedIn and Twitter. HubSpot allows marketing teams to group the management of each of their social networks into a single platform. No need to check each tool individually since with Hubspot, it is possible to react directly from the platform, which offers increased visibility and above all a considerable time saving for marketing teams !

5. An all-in-one platform

You may be discouraged by the idea of documenting and tracking messages, calls and offers with all your potential customers. As a result, the HubSpot CRM system allows you to send emails to your customers directly from the platform and also helps you keep track of any communication you had with them.
In addition, Outlook and Gmail extensions allow you to track the opening and clicking of each email, in order to optimize the management of your leads. You receive a notification that one of your leads is currently checking your email : it's time to call him, you will get his full attention !

6. Alignment of your marketing and sales teams

The sales and marketing departments of a company must move forward together using both a single platform. Based on HubSpot CRM, the scope of practice of each team is clearly defined. The tools in the Hubspot Marketing module help teams to increase lead generation and optimize their qualification level. With these better quality leads, sales teams use the tools of the Hubspot Sales module to automate their tracking by focusing on those with the best potential, especially through Lead Scoring. This alignment therefore allows companies to monitor their business activities and set realistic and achievable sales targets.

7. Improved productivity

The purpose of HubSpot CRM is to develop a better relationship with your contacts. Thanks to the information it centralizes, the tool allows you to track and analyze all the exchanges made with your customers, which allows you to launch a targeted sales campaign with a high probability of success.

8. A completely free version of the tool

HubSpot offers a completely free version adapted for about 25 users. If you decide to use the free HubSpot CRM, simply register on the publisher's official website and you can immediately enjoy all the benefits it offers.

Conclusion

HubSpot CRM is not only about providing better customer relationship management. Thanks to its many assets, HubSpot allows our agency to optimize its marketing, sales and customer service offer. Indeed, this CRM solution allows us to help our customers to acquire more leads, to facilitate their interaction and customer loyalty processes by providing them with more added value, while developing relationships of trust. By providing excellent visibility into their sales pipeline and ensuring the centralization of lead data, our customers can track their conversion funnel in real time under the best conditions, in order to boost their online sales activities in a simple and convenient way!