Agence Dn'D is proud to announce its official partnership with the cloud DAM solution : Cloudinary !
The Cloudinary Solution
Cloudinary was founded in 2012 by longtime developers who recognized the increasingly important role of media content and saw the need for a powerful, efficient and developer-friendly tool to make it easier for companies in all markets to manage and deliver multimedia content at scale. Indeed, by working on more and more web projects, the solution founders realized that the problems of multimedia content management for developers were significant (high costs, long to set up, difficult to master…). With this perspective, they created Cloudinary, a cloud-based solution that allows developers and marketers alike to more easily manage their growing media asset pipeline and deliver the kinds of online experiences that engage and convert !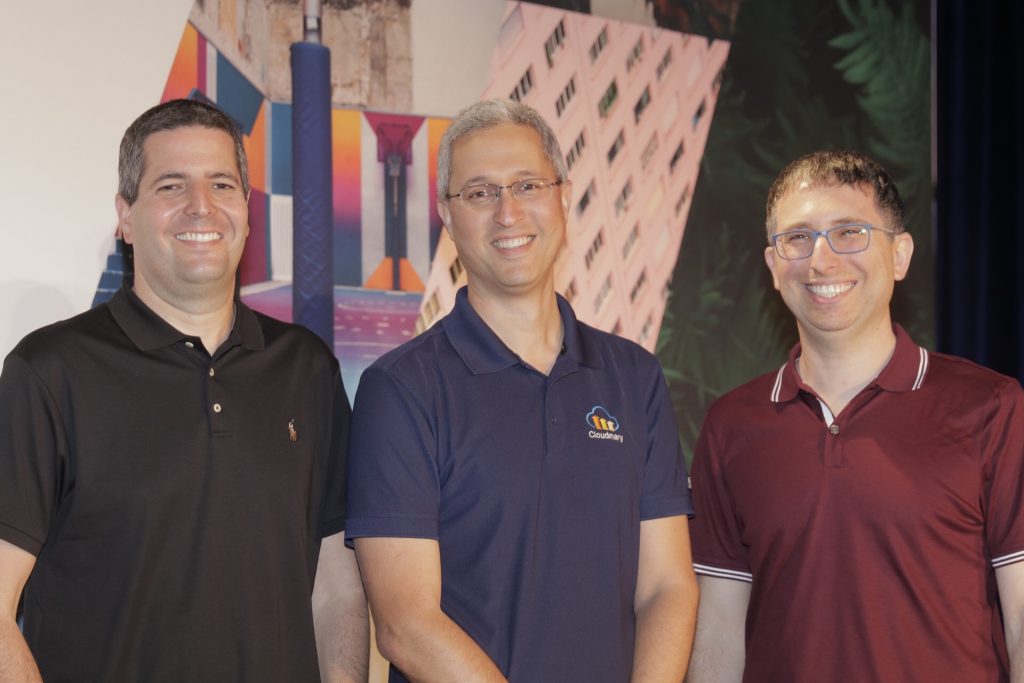 The three Cloudinary Co-Founders from left to right : Nadav Soferman, Itai Lahan and Tal Lev-Ami
Today, Cloudinary is leveraged by more than 500,000 users and 5,500 customers from all around the world. By enabling users to more efficiently download, store, manipulate, optimize and distribute multimedia content (images, videos, etc.), companies can redirect the time and resources otherwise spent on image and video management and focus on their core business.
Cloudinary DAM
Cloudinary's Digital Asset Management (DAM) is a powerful tool that allows teams to collaborate at all key stages of the digital asset management process, for both B2B and B2C companies:

The Cloudinary DAM functionment (source : Cloudinary.com)
This digital asset management solution from Cloudinary centralizes all your content within a single platform, your organization workflow and teamwork. It covers the feeding, annotation, filing, storage and retrieval of digital resources such as static and moving images, sound recordings and other multimedia or office documents. Thus, each employee can easily enrich, share and organize digital resources from a single secure source, in an intuitive way.
Media Library
Cloudinary is composed by media library that gives you access to all your digital resources. It is the Cloudinary DAM Solution main point of contact.
Thanks to the visibility it provides, you can :
Upload new images, videos, audio files or other files
Create and browse folders or share folders with users groups
Create and browse collections or share collections with users groups or external parties
Perform advanced research
Select multiple resources to perform bulk operations, including deleting, adding/modifying tags, moving, downloading or reviewing moderate resources
Select a single resource to view or update its basic details, enable its advanced analysis operations or to generate transformations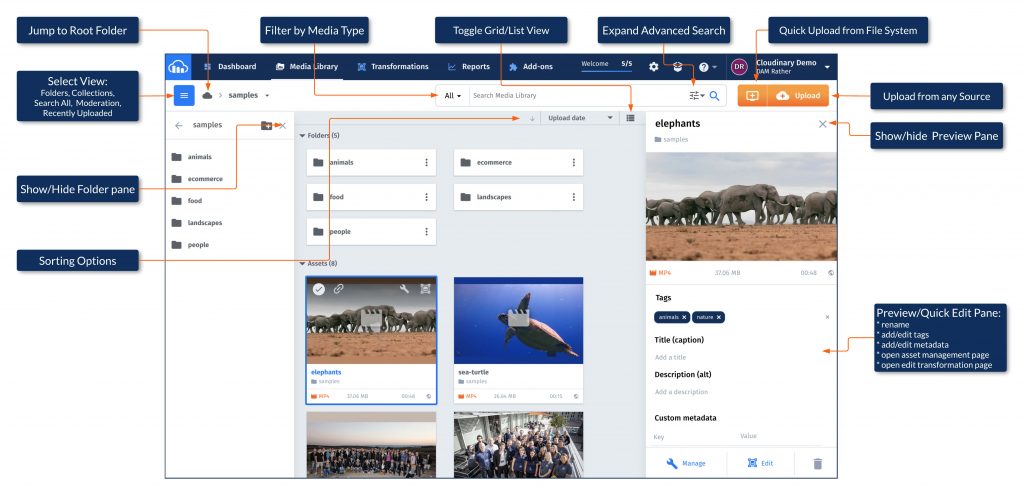 Cloudinary Media Library overview (source: Cloudinary.com)
The Cloudinary DAM 3 main advantages
1. A unique point for all teams
The Cloudinary DAM unified approach allows creative, marketing, technical or development teams to manage your company's entire digital resources lifecycle, from creation to consumption. By allowing everyone to work with resources from a central repository, the Cloudinary DAM offers its users the ability to add and manage resources directly from their preferred content management systems, but also to manipulate resources in real time. For example, creative teams can access the digital resource library directly from Adobe Photoshop, Illustrator and InDesign, without leaving their comfort zone.
2. A complete handling of your digital resources
The traditional DAMs design was based on two simple functionalities : storage and digital resources management. The dynamic Cloudinary DAM can stimulate customer engagement and increase conversions on various devices and channels, providing high quality visual experiences across all contact points used. In addition, the Cloudinary DAM allows you to track your digital assets performance by accurately analyzing engagement indicators (views, downloads, sharing, etc.) and monitoring potential errors. As a result, you get weekly reports on usage data that can help you analyze how your audience interacts with your online resources.
3. An irreproachable user experience
You can find relevant digital resources through a search system supported by IA, using tags and attributes. In addition, the Cloudinary DAM search tool allows you to add filters to refine the user experience and the results are displayed as visual thumbnails. In order to make all digital resources available within the DAM easily searchable, you can mark them with relevant keywords, making their identifications accessible to all users.
A Magento 2 extension
Cloudinary has created a module to help Magento users to benefit from its DAM features. Available for the Magento 2 Open Source edition (CE) and directly downloadable from the Magento marketplace, this new extension is regularly updated and has been launched under MIT license. It offers E-Merchants the following advantages :
A flexible upload and distribution system : digital resources can be downloaded from any source and can be dynamically manipulated to provide each user with a version adapted to their needs.
Online store performance optimized : multimedia resources load quickly and are automatically delivered in the most efficient format, quality and resolution, depending on the content and browser/viewer device. As a result, page loading times are improved, significantly enhancing the shopping experience and conversion rates.
An efficient digital resource storage system : eMerchants can take advantage of Cloudinary internal storage mechanism, which is characterized by automatic review and backup tracking. In addition, they can still use their existing storage solution by retrieving and accessing resources from the original location.
Quick installation : the extension is free for Cloudinary users and gets started very quickly. Cloudinary wrote an installation guide for the module in order to support users step by step, promoting an optimal handling. In just a few lines of code, it is possible to move your digital resources on demand or migrate your entire media library to the Cloudinary at once.

Cloudinary contributions for your E-Commerce activity

Offering the most complete and efficient technologies to its customers has always been Agence Dn'D priority. This new partnership allows us to support you more effectively in your online shopping projects since the management of multimedia content in the eCommerce Sector has never been so current. Interacting with images on an eCommerce platform constitutes a key element for conversion, it reinforces the intention to buy and helps to achieve more sales (consumers remember 80% of what they see and only 20% of what they read).

In addition, according to a ReelSEO study, we see that 73 % of respondents are more likely to buy a product after watching a video and 96 % of them believe that it is easier to make a decision about an online purchase using a video because it gives them more confidence.

In general, the multimedia content deployed by E-Merchants offers the following advantages : :
Boost conversions with optimized and responsive medias
Increase the marketing campaigns speed and effectiveness
A better customer engagement rate
A better perception of the brand image
A better involvement in customer relations
Optimized product presentations
Better SEO performance
…
Interested about Cloudinary?
Do not hesitate to contact us : we are at your disposal to answer your various questions and help you implement the solution on your eCommerce platform !